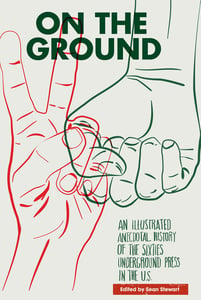 $

15.00
This eye-opening account of the rise of the Sixties underground press in the United States unfolds through the anecdotes and stories told by veterans of the movement, coupled with over 100 images taken from the pages of newspapers such as Basta Ya, Berkeley Barb, BerkeleyTribe, The Black Panther, East Village Other, Helix, It Ain't Me Babe, Los Angeles Free Press, Rag, Rat Subterranean News, The Realist, San Francisco Express Times, San Francisco Oracle, Screw, Seed, and many more.
Quick Video Preview of the Book
Edited by Sean Stewart
Preface by Paul Buhle
Publisher: PM Press
ISBN: 978-1-60486-455-7
Format: Paperback
Size: 6 x 9
Page count: 224 Pages
"On the Ground serves as a valuable contribution to countercultural history." — Paul Krassner, author of Confessions of a Raving, Unconfined Nut: Misadventures in the Counterculture
"One should not underestimate the significant value of this book. It gives you real insights into the underground press and its vast diversity of publications, which translated into a taste of real people's power." — Emory Douglas, former Black Panther Party graphic artist and Minister of Culture
FREE PRIORITY SHIPPING IN THE U.S.
$10 GLOBAL PRIORITY ELSEWHERE
If you choose to have the book personalized just leave the name you'd like used by clicking the 'Note to Seller' button in the final stage of the checkout process.